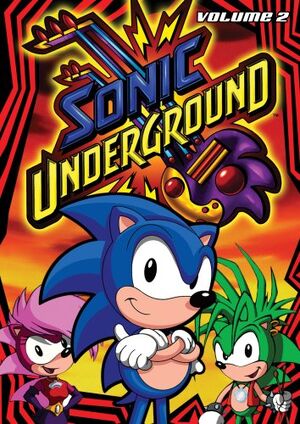 Welcome to Sonic Underground Wiki

Edit
SONIC UNDERGROUND Edit
COMMON SENCE MEDIA SAYS: Edit
YOUR KIDS GOT TO BE EIGHT (8) YEARS OLD TO WATCH THIS SHOW. Edit
9 NETWORKS: Edit
NETFLIX
DISNEY XD
YOU TUBE
BKN
TF1
ITV
BROADCAST SYNDICATION
SISTEMA BRASILEIRO DE TELEVISAO
AND
AMAZON PRIME.
This wiki is all about the third and final Sonic animated series from DiC Enterprises that anyone can edit.
Sonic Underground synopsis
Edit
In a parallel universe similar to the SatAm version, the evil Dr. Robotnik has conquered Mobotropolis and turned it into Robotropolis. Queen Aleena, it's ruler, took her three children named Sonic, Sonia and Manic and went into hiding. A prophet called the Oracle of Delphius informs the queen that the only way to defeat Robotnik is to give up each of her children separately, so that they would grow up and meet with each other to overthrow Robotnik, reunite with their mother and regain their rightful place as rulers.
Latest activity
Edit
Ad blocker interference detected!
Wikia is a free-to-use site that makes money from advertising. We have a modified experience for viewers using ad blockers

Wikia is not accessible if you've made further modifications. Remove the custom ad blocker rule(s) and the page will load as expected.